DUO Realis V-Tailshad
Since a year i am fishing with the DUO Realis V-Tail Shad in the size 3″ and with success!
Here some details about this finesse softbait:
| | |
| --- | --- |
| Length | 3″ / 76.2mm |
| Pieces | 8 |
| Colors | 12 |
The first looks and toughs are really good. A finesse bait that is soft and has many different structure on the body. The tail is quite thin and the begin of the body is wide so it gives a good silhouette in the water. I started fishing the bait on a drop shot rig. Why? Because in my home water is it easy way to check out if the fish is active or not. The bait has a really good action with the slightest moves of the rod tip. It will produce allot of vibration and with that i manage to get the first few bites and fishes.
Lets try it on a on a different way!
I rigged the DUO Realis V-Tail Shad on a 5 gram jig head and checked out what the action is and i was really surprised cause the action is totally different then 99% of all the other soft baits on the market. It has a darting action so it jumps to the front and back again and with that there is no prediction what the bait is doing. This can attract fish on waters with allot of angling pressure. This action gives me allot of confidence cause the water temperature is around 15 degrees and with that temperature the fish is getting active again from the winter period. The first fishes are getting caught on the jig. So much fun on light gear! it's a real"is" addiction.
What i can say about this softbait that it has a multi-rig option as seen below and can be used in different circumstances. It's very soft and it has a wide color range.
The blister package looks good and is also a eye catcher.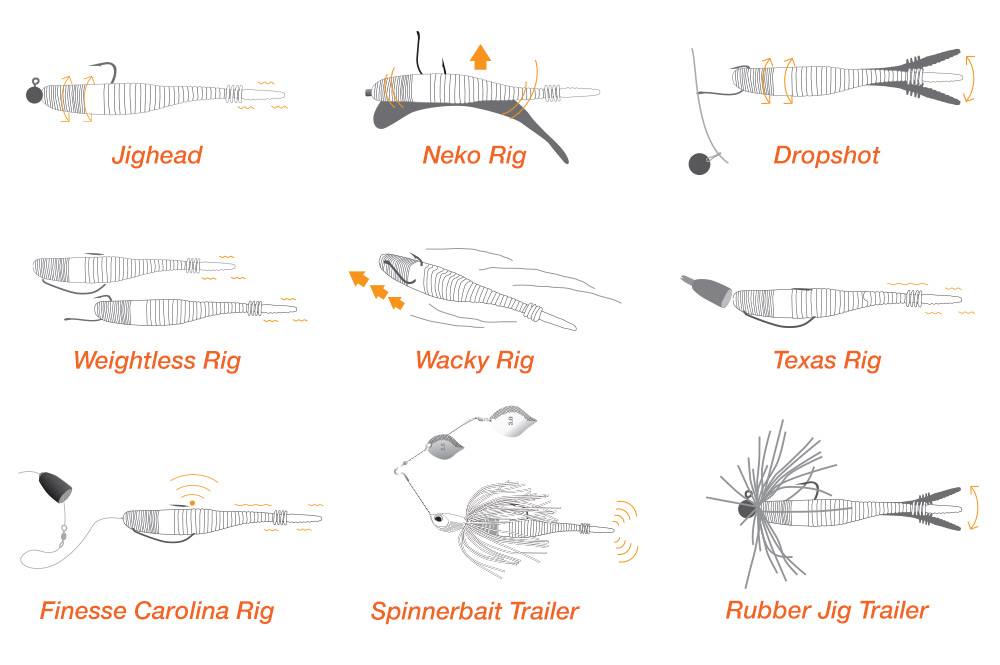 For all the finesse fishers, this is the bait where you are looking for and can't be missed in your tackle box. As you can expect from a JDM Brand as DUO International is this again a high quality product. Check them out at your closest dealer.
Tight Lines
Rutger